Get the Website as an App on your Phone!
February 27, 2019
• 0 Comment
Did you know that you can have the CAREB-ACCER Conference website as an app on your phone?
Well, its not really an app, but for intents and purposes it does the exact same thing.
These instructions are for my Android device using chrome. Other devices and browsers should have very similar instructions.
Step 1:
Visit conference.careb-accer.org on your mobile device.
Step 2:
Click on the three dots in the top right corner of the browser. Then click on the "Add to Home Screen" button.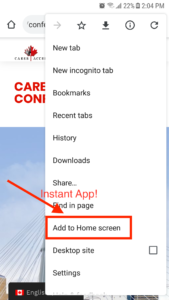 Step 3:
Thats it! There is no step three, except that you may want to move the icon on your phone to a specific place on your phone, but I'll leave that to you!
Here is some instructions for an iphone as it is slightly different:
https://lifehacker.com/add-web-site-bookmarks-to-your-iphones-homescreen-5809338